Multi-Functional
TenActiv™ Brand Work Gloves
Cut-Resistant | Puncture-Resistant | Touchscreen Compatible
Award Winner | Bare Hand Sensation
After two years of research and development, Superior Glove® has perfected the cut-resistant glove! The TenActiv™ Cut-Resistant Foam Nitrile Coated Grip Gloves are the world's first 18-gauge ASTM cut-level A4 work safety glove with 1617 grams of cut protection. These TenActiv® cut resistant knit gloves are made of high-strength, lint-free seamless composite filament fibers that are comfortable, very dexterous and highly tactile and work on mobile or touch-screen electronic devices! This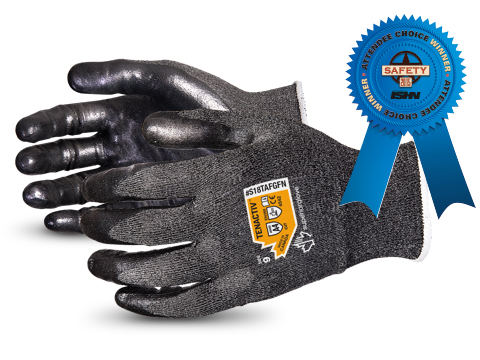 means operators no longer need to remove a cut glove to work on a touchscreen and this is good for industrial safety!
This glove's special foam nitrile coating is flexible, durable and provides great wet-grip. The black color hides dirt to maintain sharp aesthetics and Ultra-Fresh treatment achieves 99.9% antimicrobial status for up to 5 wash cycles!
Mechanical aggressors such as knives, metal parts and sharp objects are responsible for nearly 30% of the lost time work injuries in North America. About 80% of these injuries involve the hands. Most of these hand injuries could have been prevented, or at least reduced in their severity, had the right gloves been worn.
Keeping your hands safe from cuts while handling sharp objects or glass requires a pair of high-strength cut-resistant safety gloves. The nitrile coating offers the best combination of flexibility, wear, wet grip and was tested silicone free which eliminate the risk of contamination of paint line parts.
The freedom and bare hand feel of these TenActiv™ Brand Work Gloves will amaze you. This flexible and lightweight glove offers a high level of comfort and protection and here's the best part, Superior Glove's corporate facility has an internal quality control department that randomly checks that the ANSI Cut Level Rating is being meet!
ASTM ANSI Cut-Level A4 | ANSI Puncture-Resistant Level 4 | Abrasion Level 4
Keep your operator's hands safe from slash cuts while still being able to use Touchscreen devices. Additionally, the dexterity of these work gloves enhances the wearer's ability to do their job without having to take off their gloves. The applications for the TenActiv Foam Nitrile Coated Seamless Knit Gloves include medium cut hazards such as: appliance manufacturing, bottle and glass handling, canning, dry walling, electrical, carpet installation, HVAC, pulp and paper, automotive assembly, metal fabrication, metal handling, packaging, warehouse, aerospace industry, food prep/processing.
________________________________________________________________________________
MDS Associates strives to sell only the best quality Slash-Resistant Work Safety Gloves with the right properties to get the job done. With MDS Associates, construction workers, adventure enthusiasts and even business owners can rest easy knowing their hands are protected. If you're considering purchasing a pair of Cut-Protection Gloves, call MDS Associates today to find the perfect work gloves for you!
Call MDS for volume discounts or to place an order!
+800.274.4637 | +716.668.4001 | [email protected] | Fax +716.668.4496 | MDSassociates.com