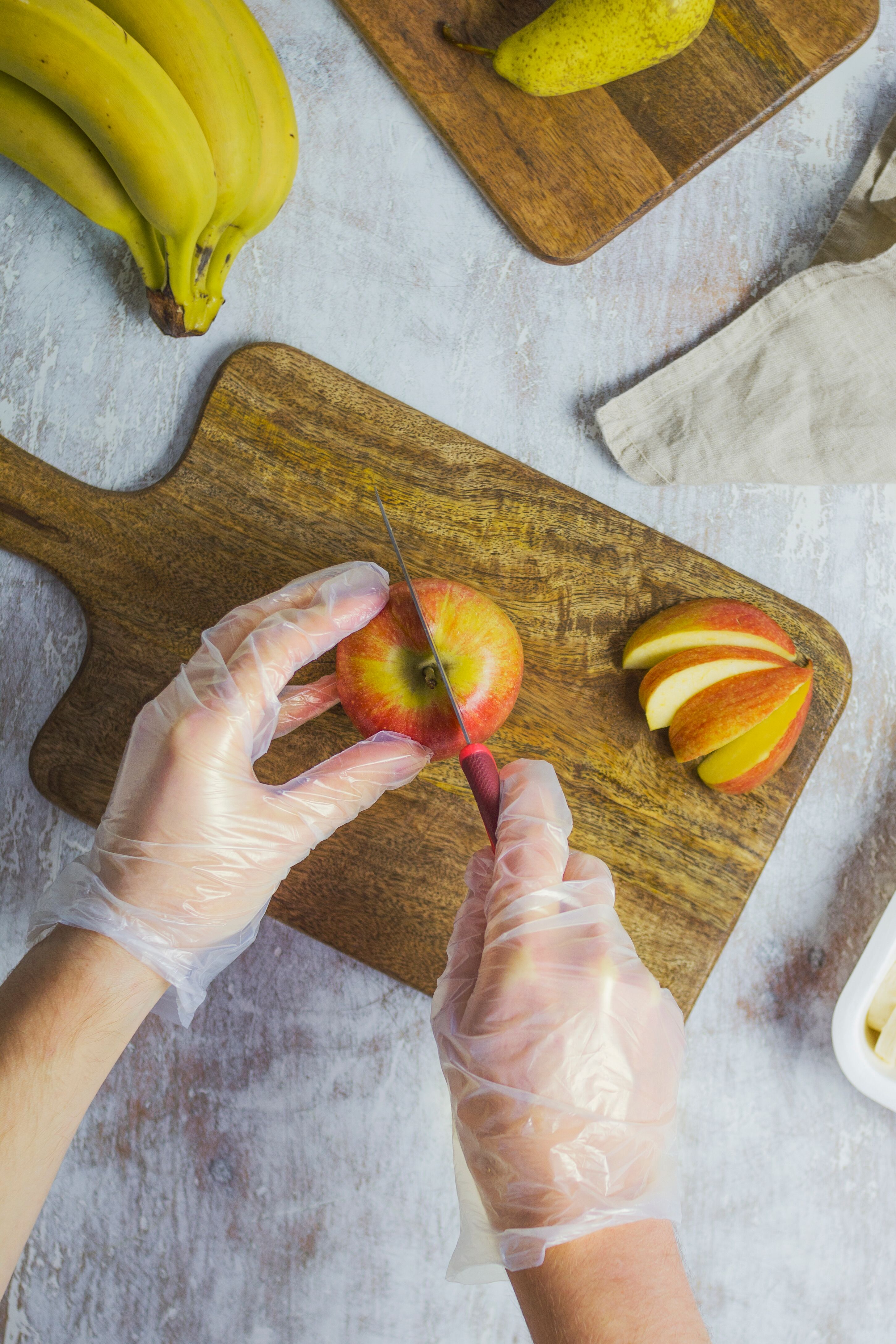 100% Compostable Food Prep Gloves
Independently Certified to Break Down in 12 Weeks
New Technology Reduces Landfill Waste!
It seems like single-use gloves are worn virtually everywhere. Simple, inexpensive and practical, they protect wearers from cross contamination and are regulated by the government to be worn to cover the hand when handling consumer type items such as food.
Consider how many people wear and dispose single-use gloves in food establishments all across our country everyday-the numbers are outrageous. For most establishments, workers simply toss these gloves into the garbage where they make their way to landfills where studies show, it can take 100+ years to decompose.
Useful in food service lines, deli counters and other high volume applications, Food Prep Gloves or Handler Gloves are often the choice of hand protection when handling or preparing food items. Used for light duty tasks that require frequent glove changes, this low-priced glove has a loose fit design for easy on/off and provides plenty of tactility and strength.
For years, these gloves were constructed with polyethylene (PE), a petroleum based plastic and we're learning It's bad for Mother Earth. We have an eco-friendly solution for our Planet and for your food handling glove protection.
Made from Plant-Based PLA, Not Petroleum Based (PE) Plastic
Boost Green Credentials | Improve Sustainability | Reduce Recycling Costs & Landfill Waste

There is a new technology available for your hygienic food handler gloves and it's called Polyactic acid (PLA). PLA is a plastic substrate made from fermented plant starch (usually corn) and it is fast becoming a popular alternative to traditional petroleum based plastics such as polyethylene which often result in toxic microplastic. For PLA to compost or biodegrade, you must break up the polymer by adding water to it (a process known as hydrolyzing) and for hydrolyzing to occur, heat and moisture are required.
Dispose These Gloves Along with Food Scrap Waste!
Provide a new way to care for the environment while securing food safety. Comfortable and durable, each pair of Vegware™ gloves are a quality tool for completing foodservice tasks such as making sandwiches, bakeries, deli service, prepping salads, serving pastries, cafeteria service and more. After use, these compostable gloves can be given a new life as compost, since these gloves are made of material certified to degrade in a commercial composting facility. Simply toss them in with the food scraps-no need to sort!
Applications:
Making sandwiches

Fresh salad prep

Food sampling

Pre-portioning

Buffet serving

Catering service

Handling pastries

General cleaning tasks
Features/Benefits:
Loose-fit design for easy-on, easy-off use

Compost to reduce landfill waste and methane emissions

Durable material and translucent green color

Can help reduce landfill disposal fees through composting program
Look for the Certification - International Standards Defining Compostability

The most widely used compostability standards are the American ASTMD 6400 and the European EN13432. The following bodies have independently certified that this product can break down in under 12 weeks: They are largely equivalent, and include the following elements:
1. Biodegradation - materials turn to soil through microbial action at the same rate as cellulose (paper).
2. Disintegration - the materials fall into small pieces.
3. Eco-toxicity - seeds can germinate in the resulting compost - ie it is useful for plant growth.
4. Heavy metals - the compost is safe to go onto land.
Disposables are used for such a short time it makes sense to switch to renewable materials, reserving conventional plastics for applications where they can't be easily replaced. Lots of people are using plant-based materials and products such as clamshells, plates, drinking straws and bowls. Are you?
Add your finger-print to conservation today. Convert to plant-based compostable or biodegradable products and make Planet Earth a better place for you and I.
Monday - Friday 8:30am - 4:30pm Eastern Time
Orders. Questions. Volume Discounts.
+(800) 274-4637 | +(716)668-4001 | [email protected]
*We Can Ship to Canada*
MDS also offer 100% certified biodegradable latex-free nitrile gloves and work gloves. Check out the green colored GREEN-DEX™ or black colored N-DEX® gloves for heavier duty tasks and a water-proof barrier.