What's Lurking

on

Your Phone?
Swipe Away Germs
with

Sono® Wipes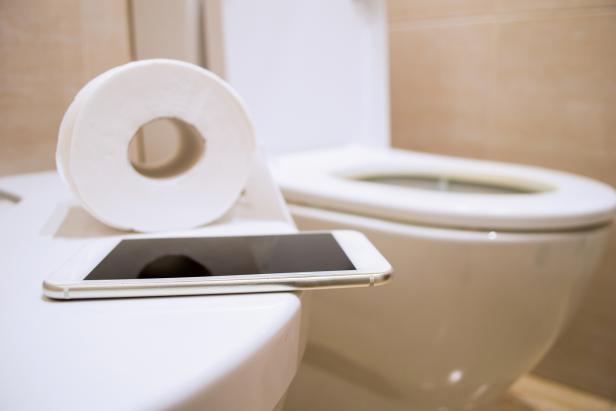 Simply put, cell phones are a breeding ground for germs to thrive. Given our heavy reliance on these devices and the fact many of us never venture out in the public without our phones, it isn't surprising to know that they're among the dirtiest things in the world.
Statistics show that Americans, on average, touch their cellphone 2,617 times daily and spend 5.4 hours on their phones with 75% carrying their phones into the bathroom. In fact, the average touch phone has 25,000 germs per square inch making it one of the most germ-infested items you touch every day. Scientists at the University of Arizona found that our mobile phones are ten times filthier than most toilet seats, door knobs, or the soles of our shoes! What's even worse is individuals put their phone to their mouths and face regularly. Eew!
GERM TRANSMISSION
The reason your cell phone holds so many germs is because 1. it goes with you everywhere, 2. it's easy for your phone to collect germs from your hands, and 3. it stays warm throughout the day. The warm environment allows viruses and bacteria to thrive and grow, putting you at a greater risk to infection. Dirty phones can not only transmit diseases to you but can easily cross-contaminate germs to other people.
All of the bacteria picked up during day-to-day activities can easily transfer to touchscreens, phone cases, ear buds and phone chargers. Odds are you don't clean them very often or well enough. Even if you wash your hands thoroughly each time you used your phone, viruses and bacteria can still find their way to your device.
Let's be honest, how often do you sanitize your phone and case? SONO® Disinfecting Wipes are a smart, easy and safe way to clean electronic devices.
► LAB TESTED FOR SURFACE SAFETY
It's a good idea to disinfect phones (and accessories) frequently using high-quality disinfectant wipes that do not contain harsh chemicals such as alcohol, beach, ammonia or abrasives as damage can result. SONO® Healthcare was the first company to develop an automated compatibility process for medical devices in the healthcare industry such as CPAP machines, ultrasounds, nebulizers, EKG's and performs compatibility tests on a variety of electronic devices and other common surfaces to be sure their disinfectant wipes don't damage them!
► PROVEN SAFE FOR ALL SURFACES-NO GLOVES REQUIRED
We realize your phone means a lot more to you than just being a convenient way to check your likes or messages. SONO® is the next generation of disinfection as it is recognized as one of the safest and most effective disinfecting ingredients available on the market. SONO® Hospital-Grade Disinfectants are recognized by the United States EPA (#6836-340-89018) and the Center for Biocide Chemistries as an effective solution against 99.9% of bacteria, fungi and kill more than 47 pathogens such as:
SARS-CoV-2

• Staphylococcus Aureus (MRSA)
2019-nCov (Covid-19) •

HIV

Enterococci (VRE)

•

Norovirus

Carbapenem-Resistant Enterobacteriaceae (CRE)

•

Hepatitis B and C

Carbapenem-Resistant Klebsiella pneumoniae (CRKP)

•

Avian influenza, H1N1, H3N2, and H5N1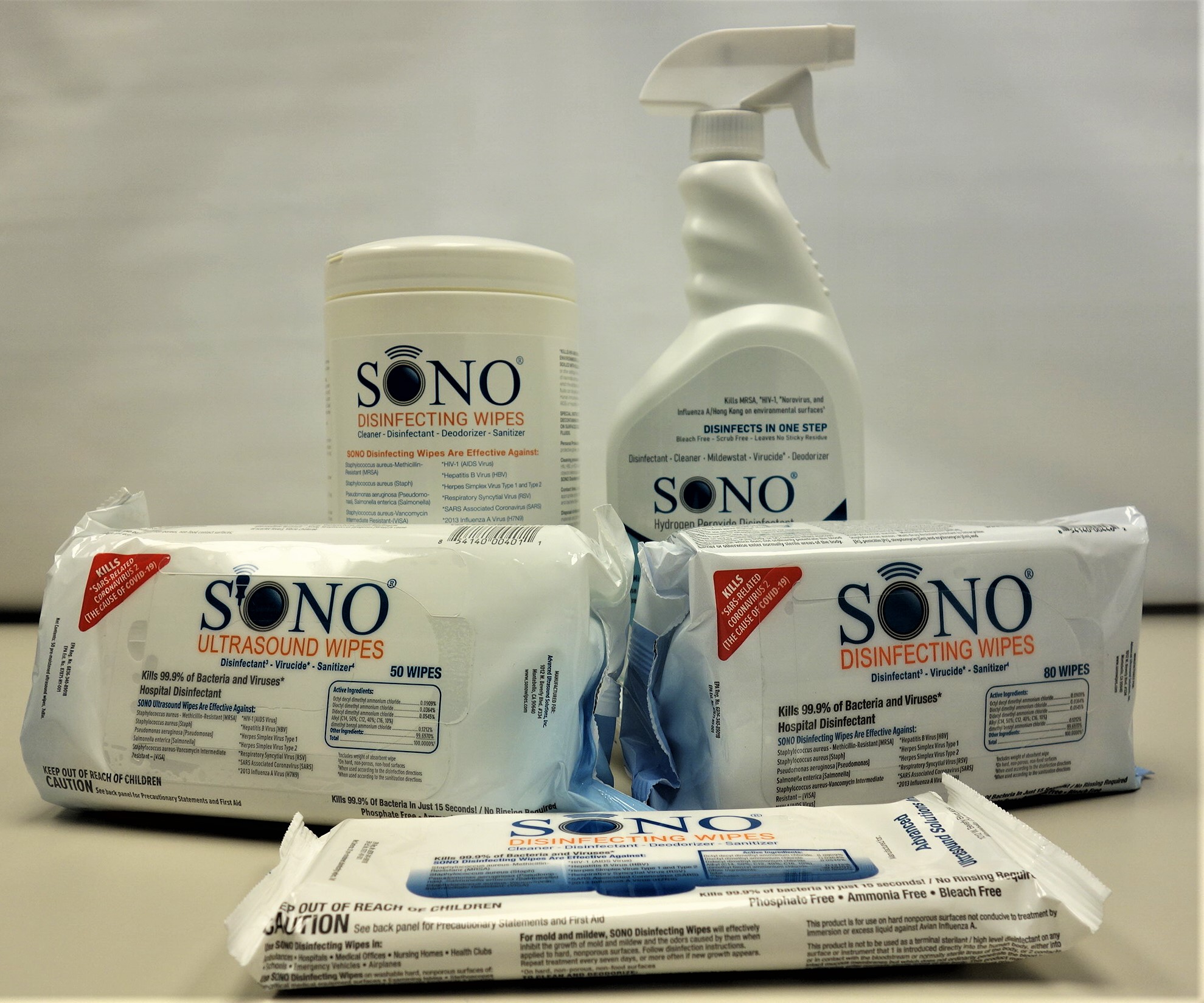 Using a patented Hydrogen Peroxide technology, SONO® Disinfecting Surface Wipes are a broad-spectrum, one-step, medical-grade disinfecting wipe with a 4-minute kill time, a two year shelf life and 1 year expiration (once opened).
These textured wet wipes are quaternary ammonium compound based with a low VOC formulation that is ammonia, bleach and phosphate free. They also don't contain harsh solvents, added alcohol or strong oxidizing agents making it safe for all surfaces. This means you don't need to wear gloves to use them, and they're not-flammable making them ideal for everyday use!
Shop Now
#SONO4094 33 PACK - Disinfecting Wipes - 20ct. Travel Softpack
#SONO4018 12 PACK - Disinfecting Wipes - 50ct. Softpack
#SONO4479 12 PACK – Disinfecting Wipes – 80ct Softpack
#SONO4032 6 PACK – Disinfecting Wipes – 80ct. Canister
HOW TO DISINFECT YOUR SMARTPHONE
Recommended Once Per Week
Step 1: If a protective case is used on the phone, carefully remove it before disinfecting. Germs can get trapped in the gaps between your case and phone, so it's best to clean them separately. Don't forget to follow the same steps for the phone cover.
Step 2: Remove a SONO® disinfecting wipe from its packaging and spread it across your hand. Note that the wipe is big enough to wrap around your phone.
Step 3: Place the disinfecting wipe over the phone so it completely covers the screen. Fold the wipe over the top and bottom, then fold it over the sides like wrapping a present
Step 4: Place the phone in a safe, dry place for at least 10 minutes. This step is important because the surface needs to stay wet to eliminate the most germs.
Step 5: Remove the wipe from the phone and thoroughly clean all sides to remove the germs from the phone. The final step is to clean the residue left by the proprietary formula with a microfiber dry cloth. Streaking is a good thing in disinfection as the formula is designed to stick around and guarantee "Death to Germs!"
Remember, 80% of common infections are spread by hands and germs are everywhere – at home, in school, in the office, at restaurants, and everywhere you travel. Even medical facilities are not immune to these disgusting, illness-causing microorganisms. Germs thrive on our cellphones and laptops, doorknobs, keyboards, countertops, stair rails, elevator buttons, remote control devices, ATMs—and surprisingly—gas pump handles –items commonly contacted almost on a daily basis. Now you can use what hospitals and other medical facilities use and trust, but first you need to tap the link and….
Monday – Friday 8:30am – 4:30pm EST
Samples. Non-Published Volume Discounts. Questions.
Toll-Free +800-274-4637 | +716-668-4001 |

[email protected]
"We Want You To Return Home Safely...Everday!™
** Stay Clean. Stay Protected. Use SONO® Disinfectant Wipes Along with Our Touchscreen Compatible Cell Phone Barrier Sleeve Covers **
Note: If an electronic cleaning product doesn't make the claim that it is safe for electronic devices, then we suggest not using it as long term exposure can result in damage.