Featured News - Current News - Archived News - News Categories
Get a Handle on Hygiene with Scott® 24-Hour Sanitizing Wipes
by mdsassociates
Fri, Feb 4th 2022 08:00 pm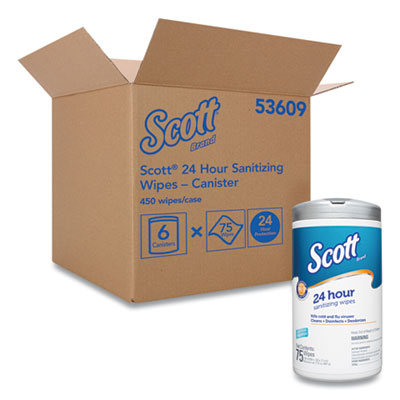 Most surface disinfectants work but only for the moment and as soon as a surface is touched again, the cross-contamination of germs can happen resulting in infection.
Simple, safe and easy to use, Scott® 24-Hour Sanitizing Wipes are the first bleach-free wipes on the market to maintain surface sanitization for a full 24 hours even after multiple touches and all while not requiring any rinsing.
These sanitizing wipes use patented technology to create an antimicrobial defense barrier that delivers best in class 24-hour sanitization.
Prevent the Spread - These 24 Hour Surface Wipes Are Ideal for Tables, Chairs, Counter Tops, Athletic Equipment, Handles and More!
Scott® 24-Hour Wipes are EPA registered to effectively kill 99.99% disease causing viruses and bacteria such as E.coli, S. aureus, Strep, MRSA, Staph, SARS-CoV-2 the virus that causes COVID-19, influenza A virus (H1N1), and respiratory syncytial virus (RSV).
Scott® Sanitizing Wipes are bleach-free and safe to use on all hard, non-porous and non-food-contact surfaces in the home, office, classroom, reception areas, childcare facility and gym.
Prevent cross contamination on surfaces for up to 24 hours and more with one quick swipe of Scott® Sanitization Wipes - Yeah it's that easy!
__________________________________________________________________________________________________
Related Articles