Featured News - Current News - Archived News - News Categories
MaxiDex® ViroSan™ Anti-Virus Work Gloves
by mdsassociates
Mon, Nov 14th 2022 08:00 am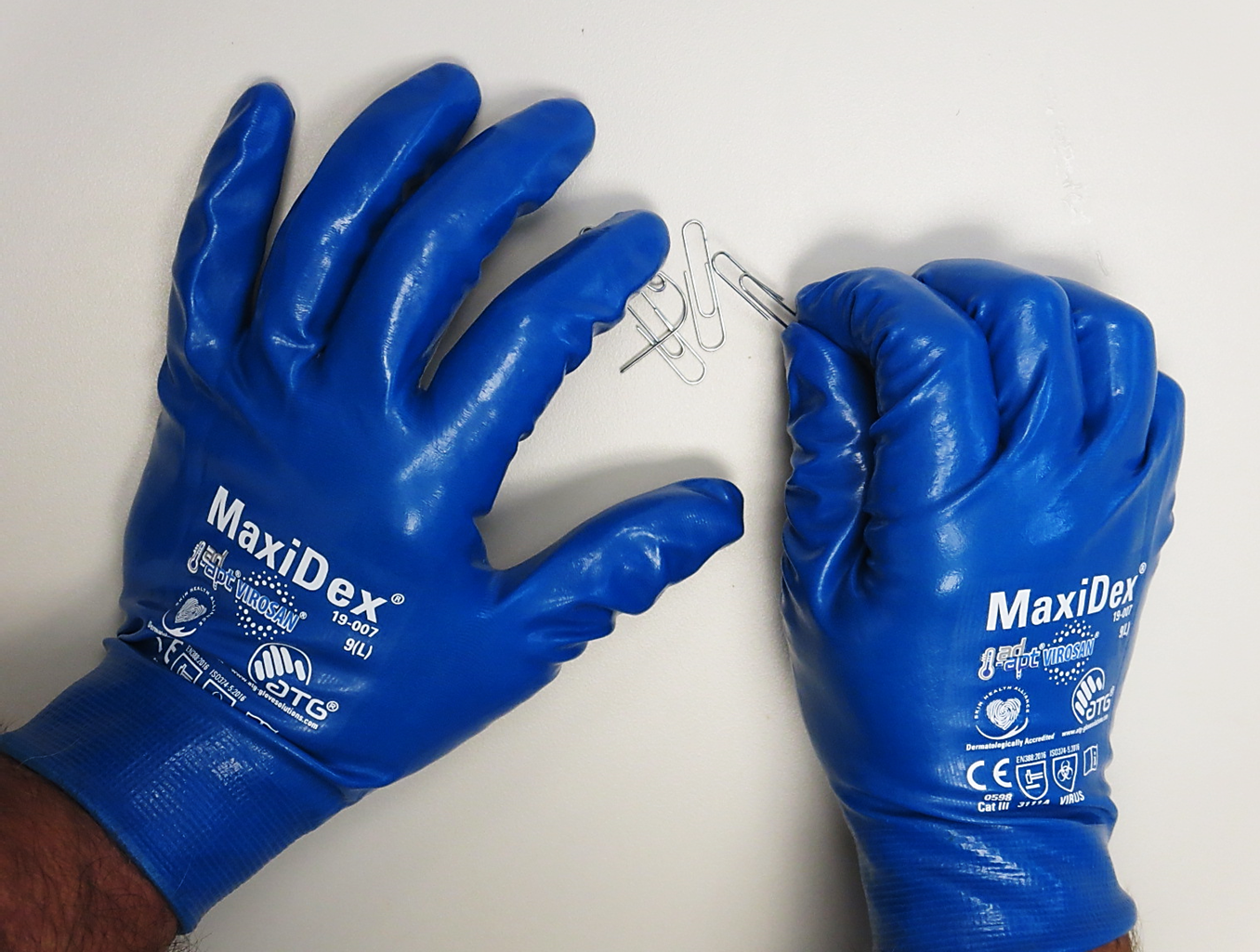 ENHANCED GLOVE HYGIENE FOR YOUR HANDS TO WORK IN
Highly efficient and long-lasting gloves, these lightweight, snug-fitting fully coated seamless knit MaxiDex® Hybrid Gloves combine the best features of precision-handling gloves and disposable gloves in one groundbreaking solution.
Providing excellent protection against mechanical and biological risks, including abrasions and chemicals, these 19-007 MaxiDex® Hybrid Gloves feature proprietary ViroSan™ - a protective anti-viral barrier that resides on the nitrile glove coating.
ViroSan™ is designed to prevent the proliferation of viruses which deposit on the glove and has been successfully passed ISO 20743:2013 test method and EN374-5 which determines and measures antiviral activity on plastics and other non-porous surfaces including NL63, a human strain of covid. As the coating is used, there is always a fresh layer of ViroSan™ on the surface of MaxiDex® ready to kill on contact.
MaxiDex® is also dermatologically accredited by the Skin Health Alliance ensuring professional glove users they're "dermatologically safe". They're also pre-washed prior to packaging carrying a "Fresh out of the pack" guarantee using water that is rain-harvested, treated and continually recycled from owned water treatment centers.
Thanks to active cooling by means of exclusive ATG® AD-APT® technology, these MaxiDex® gloves can be worn comfortably over a longer period of time without causing your hands to sweat.
MaxiDex® gloves are certified per ASTM D6978-05 (2019) ensuring EMT's, law enforcement and lab technicians with greater confidence when handling overdose victims or narcotics laced with fentanyl.
The gloves are suitable for multiple applications and can be purposed for a variety of functions including assembly works, athletics, laboratories, janitorial, hospitality, food packaging, mechanical works, warehousing, horticulture, pharma, life sciences and aged care.
____________________________________________________________________________________________
+read more about PIP® MaxiDex® ViroSan™ Anti-Virus Liquid-Proof Touchscreen Gloves here
+shop for PIP® MaxiDex® ViroSan™ Anti-Virus Liquid-Proof Touchscreen Gloves here
Related Articles