Featured News - Current News - Archived News - News Categories
PIP® G-Tek® VR-X™ Antimicrobial Hand Protection
by mdsassociates
Thu, Apr 27th 2023 09:00 am
G-Tek® VR-X™
THE NEXT GENERATION OF INDUSTRIAL HAND PROTECTION
PROTECTION AGAINST MECHANICAL HAZARDS & WORKPLACE CROSS-CONTAMINATION OF MICROORGANISMS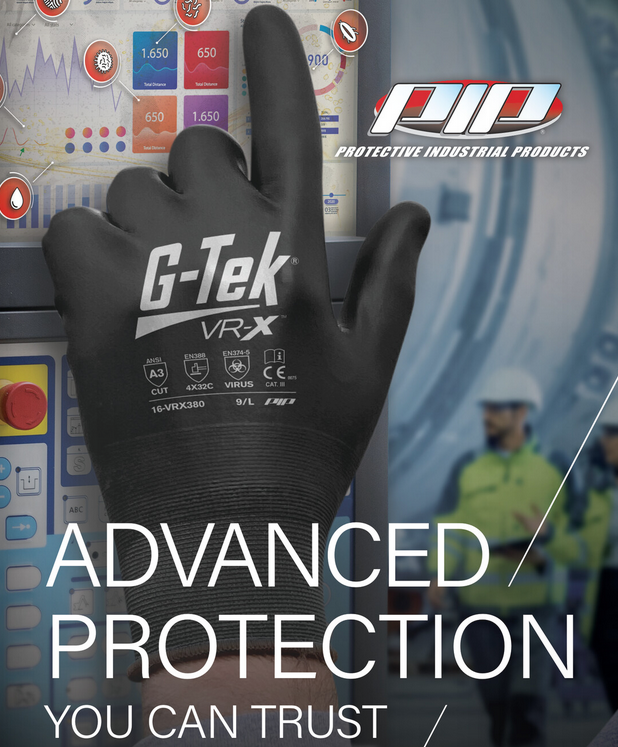 Thanks to the pandemic, gloves are being relied upon as a new line of defense against cross-contamination. The G-Tek® VR-X™ is a new style of hand protection PPE that offers unprecedented barrier protection in a work glove that helps protect workers against the transmission of viruses and bacteria commonly found on shared surfaces or items.
Microscopic viruses, bacteria and fungi are everywhere including our bodies. We all are exposed to an innumerable amount of them on a daily basis, with most being nonpathogenic and necessary for maintaining overall good health and environmental conditions. However, for those that cause harm, there's been an increased focus on solutions that minimize contact with them or eradicate them entirely if present on surfaces where they can be easily transferred.
In November of 2020, Protective Industrial Products (PIP®) applied for a patent (patent-pending 63/119,080) on a new type of work glove that delivered advanced barrier protection – with the test results to prove it.
These revolutionary new work gloves are not just coated seamless knit gloves with a full glove coating. Rather it is a new technology in the form of a proprietary coating that could be tested for liquid permeation as well as chemical and microorganism penetration under testing standards, and pass!
This polyurethane-based coating was independently tested against specific viruses and bacteria, given its polymer containing active silver ion technology as an extra level of protection. Active silver ion technology as an additive to polymers is helping to maintain a consistently lower bio-burden due to active silver's naturally occurring antimicrobial properties.
PIP's G-Tek® VR-X™ work gloves allow wearers to be confident while protecting against both mechanical hazards and harmful microorganism-related activity. The G-Tek® VR-X™ gloves also eliminate the need to double glove with disposables thus saving money. Touchscreen compatibility reduces the risk of cross-contamination as operators no longer need to remove a glove to operate smart devices!
With touchscreen compatibility and anti-viral activity, these innovative work gloves allow workers to avoid glove removal in all work applications helping to protect against contamination and microbes on highly shared surfaces.
______________________________________________________________________________________________
+read more about G-Tek® VR-X™ Antimicrobial Work Gloves here
+shop for G-Tek® VR-X™ Antimicrobial Work Gloves here
Related Articles