Featured News - Current News - Archived News - News Categories
Kut Gard® ATA® PreventWear™ Cut-Resistant Body Garments
by mdsassociates
Fri, May 5th 2023 08:00 am
Guard Against Lacerations
Kut Gard® ATA® PreventWear™ Garments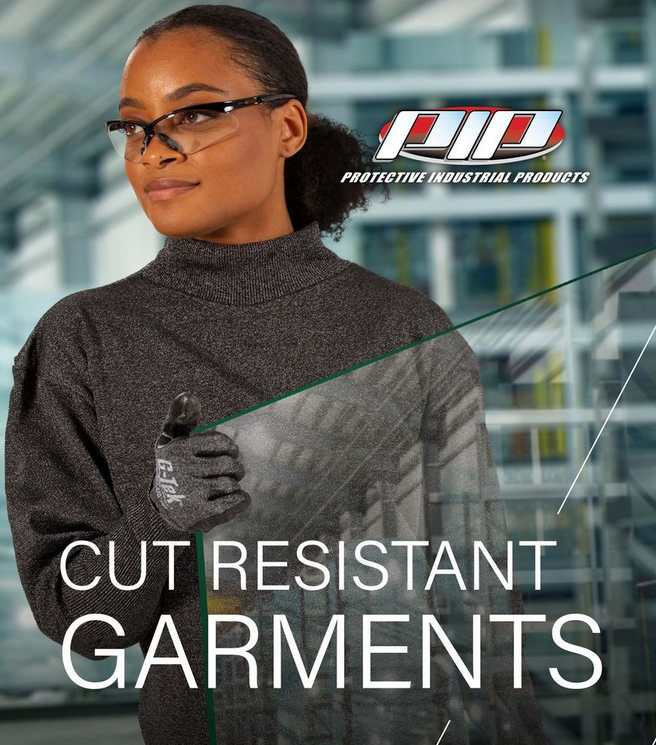 MADE IN USA
Faced paced, hectic work conditions and high demand workloads combined with sharp-edged sheets of glass or steel can quickly brew mishap. One slip, stumble or break in focus and it can quickly lead to a serious personal injury or even death.
Implementing the proper cut-resistant PPE can help prevent a substantial laceration to a vital artery which can cause rapid blood loss resulting in death and cuts to a muscle, tendon, ligament or nerve that can cause shock or immobility
Cut-Resistant Garments for Focused Full Body Protection
Kut Gard® ATA® PreventWear™ garments from PIP® are made from extremely strong, high-performance fibers and essential protection against slash injuries in the highest risk areas of the body.
Made in the USA, Kut Gard® PreventWear™ specialized cut-resistant apparel provides wearers with enhanced confidence, comfort and focus. High-level cut safety zones protect vital areas susceptible to harm such as the upper chest, neck, wrist, abdomen, upper arm and forearm and where major arteries are at risk.
Available in a variety of styles to best suit your application, Kut Gard® ATA® PreventWear™ garments are treated with an antimicrobial solution to help prevent the growth of bacteria and manufactured with 21 CFR-approved materials for food contact, making them a lightweight alternative to heavier garments worn in food processing. Optional high visibility accents help raise worker awareness to help prevent accidents.
Meets ASTM F2992-15 Standard
To ensure safety, Kut Gard® ATA® PreventWear™ Clothing is tested to method ASTM F2992-15 standard. This test method assesses the cut resistance of a material when exposed to a cutting edge under specified loads.
From chaps to jackets, from pullover shirts to aprons with or without hi-visibility accents, PIP® Kut Gard® PreventWear™ PPE is designed provide continual barrier protection to reduce serious workplace injuries and allow operators to work with greater confidence and focus.
______________________________________________________________________________________________
+read more about Kut Gard® ATA® PreventWear™ Clothing here
Related Articles