Featured News - Current News - Archived News - News Categories
Virex® II 256 Disinfectant Cleaner and Deodorant Concentrate
by mdsassociates
Fri, Feb 11th 2022 08:00 am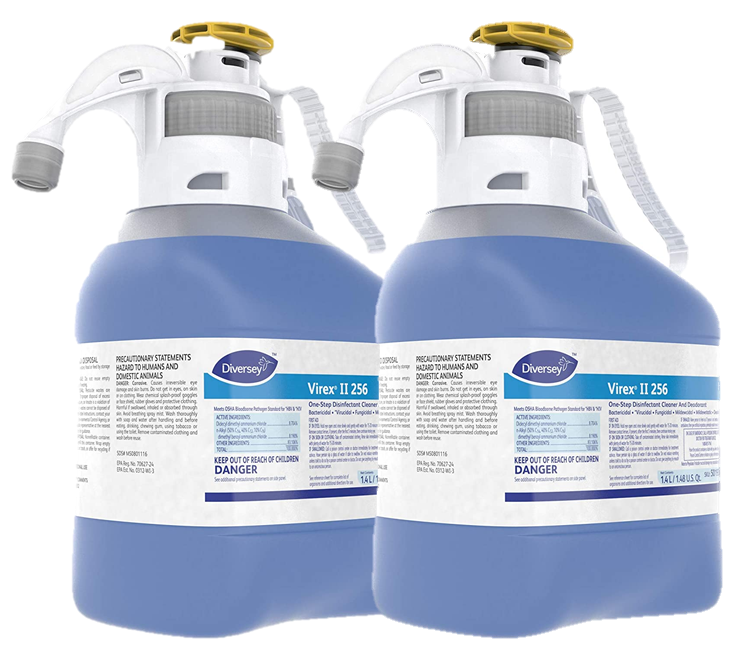 Decomposition occurs as a result of an unattended death, crime scene, trauma, and can even involve pets, food, urinals and toilet bowls. Decomposition odors can be caused by anything from just the common spill of a beverage that's penetrated too deep for traditional cleaning methods, all the way to bodily fluids such as blood leftover from unfortunate events such as trauma and crime scenes.
In addition to the extremely unpleasant odor, body decomposition fluids or bodily fluids such as blood, urine and feces can permeate porous materials, which can include carpet, subflooring, walls, concrete, and more, causing a smell that cannot be removed by ordinary cleaning methods. Cross-contamination and exposure to these fluids can also lead to infection and need to be neutralized.
Meets Bloodborne Pathogen Standards for Decontaminating Blood & Body Fluids
Providing broad spectrum disinfection at 1:256 dilution, Virex® II 256 is bactericidal, virucidal and fungicidal and kills microorganisms including HIV-1, VRE, MRSA, GRSA, MRSE, PRSP, Herpes Simplex Types 1&2, Influenza Type A2, Adenovirus, Rotavirus and many more. It also meets bloodborne pathogen standards for decontaminating blood and body fluids.
Virex® II 256 quaternary-based disinfectant cleaner deodorant concentrate is FDA approved, EPA registered and ideal for use in healthcare, waste and refuse, institutions, funeral homes, portable restrooms, disaster events, zoo's and other facilities where cleaning and prevention of cross-contamination are critical. Get clean today.
___________________________________________________________________________________________________
Related Articles