Featured News - Current News - Archived News - News Categories
Aquasorb Car Preservation Storage Kits
by mdsassociates
Tue, Aug 15th 2023 08:00 am
Protect Your Collectible Car's Interior from Potential Environmental Damages with Car Mold & Moisture Kits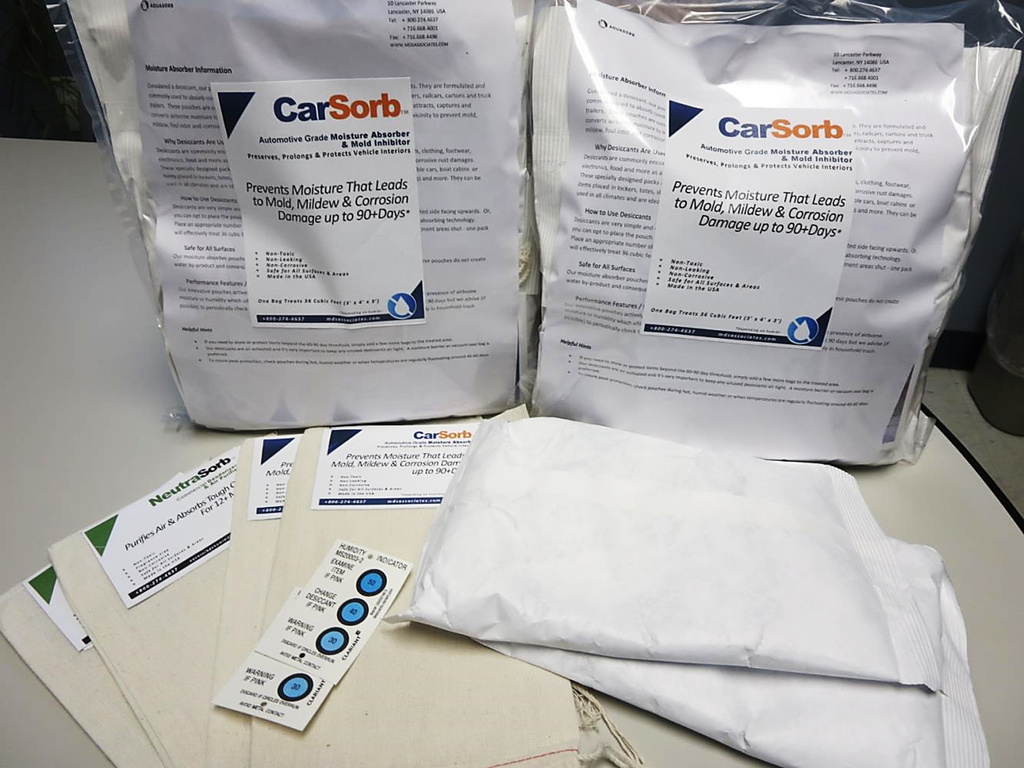 If you own a collectible car, then you most likely drape a tailored made car cover to protect and preserve the value and condition of your vehicle's exterior paint finish from hazards of the garage and environmental damages such as debris and dust. But to fully preserve your prized investment, the protection shouldn't stop here.
While many owners smartly opt to invest in a car cover to protect external surfaces, few owners address threats that can occur throughout a vehicle's interior, such as rust or mold.
Your Partner In Preservation
AquaSorb™ Moisture Absorber and NeutraSorb™ Odor Inhibitor pouches provide the perfect blend of high-performance absorbing technologies making them the perfect combination for preserving the quality of your car's interior cabin.
CarSorb™ | Moisture Absorbing Technology
For a Dry Interior Compartment
Used as a humidity absorber to regulate "cargo rain" inside international oceanic shipping containers, CarSorb™ industrial-strength desiccant pouches are awesome protection for automobiles. They're specially designed to attract, capture and crystalize almost 2-lbs of excess airborne moisture (water vapor) to starve out potential mold, mildew or corrosion for up to 90+ days (depending on humidity). Air activated, this technology automatically shuts "off" and turns "on" in the presence of moisture vapor and remains dry even when the desiccant has reached capacity. No water by product, no "storage sweats", no dumping, no need to remove device during operation or transportation of the vehicle. Simply dispose the pack into the garbage when cycle is complete.
NeutraSorb™ | Air-Purifying & Filtration Technology for a Fresh Interior Compartment
Surround yourself with a fresh, breathable environment and eliminate chemical-filled air fresheners and odor neutralizers that simply mask odors. NeutraSorb™ is a cost-effective, convenient, fragrance-free, chemical-free and safe filtration technology for managing indoor air quality naturally! These industrial-strength odor absorber and air purifier packs filter allergens and pollutants from the surrounding air. This technology will rid dangerous VOC's and absorb stubborn odors, including musty and moisture related odors, over long periods of time. NeutraSorb™ utilizes an activated carbon (also called activated charcoal, activated coal or active carbon) process that results in millions of micro-pore networks that continually filter large volumes of air and attracts, then encapsulates pollutants permanently.
Keeping your car's interior surfaces dry and fresh year round or during periods of inactivity such as seasonal storage is easy! Eliminate moisture absorbers with water-holding reservoirs, hanging bags that need to be recharged in kitchen ovens and water by-product! Our automotive storage or preservation kits include:
4 each: CarSorb™ 500 gram (1lb+) pack
2 each: NeutraSorb™ 227 gram (1/2lb) pack
4 each: Optional cloth hanging bag with tie
2 each: Humidity indicator card
Preserve, prolong and protect your prized ride! Just place and space these packs in sealed enclosures or compartments to neutralize odors and wick moisture.
------------------------------------------------------------------------------------------------------------------------------
+Learn more about the environemental hazards and protecting your prized ride with our Car Mold & Moisture Kits here
+Shop our Car Mold & Moisture Preventions Kits here
Related Articles