These Revolutionary

TenActiv

™

Work Safety Gloves

Are

Elevating Compliance!
Our company has been selling hand protection for over 35 years and just when I think I've seen it all, Superior Glove® launches three new industrial work safety gloves that frankly, left me speechless. You can buy the best industrial work gloves in the world, but they're worthless if no one uses them while on the job.
Superior Glove® loves hand protection and their engineers are driven to develop cutting edge hand protection products that not only meet a specific safety need, but more importantly constructed so workers will actually want to wear them, and boy did they hit a home run here.
ELEVATE PPE SAFETY COMPLIANCE
Superior Glove® has the unique ability to develop innovative hand protection products that are years ahead of the competition. Part of the secret is in the science. After identifying a hazard, their engineers visualize a work glove to solve the problem, then design it. Instead of relying on one strong fiber, these gloves are knitted from yarns engineered to incorporate the benefits of two or more components to create unparalleled cut protection, performance and comfort.
Adding to their hot-selling TenActiv™ line up of industrial work safety gloves are revolutionary styles that are serious game changers.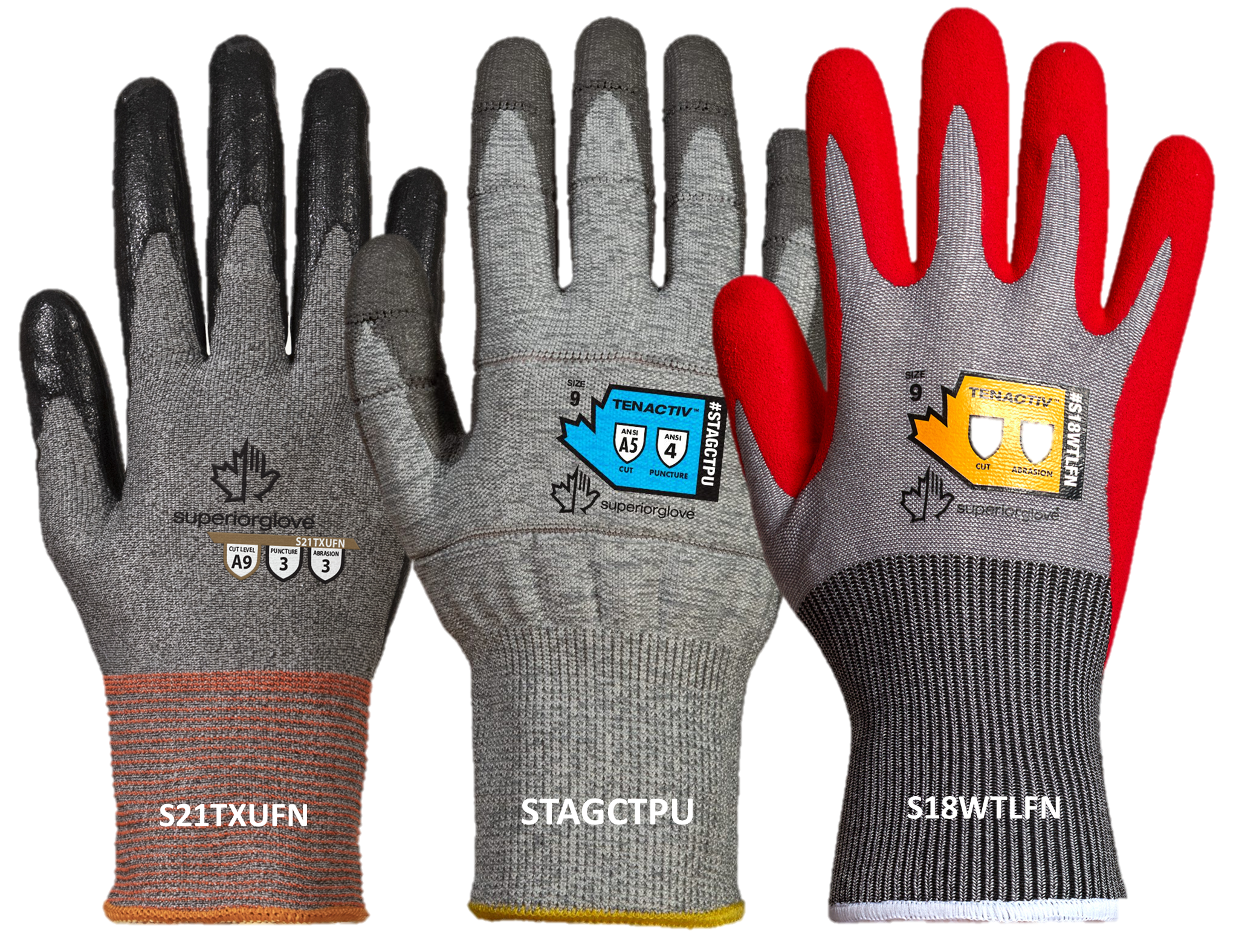 +Shop Now
WORK GLOVES THAT FEATURE TEAR-AWAY TECHNOLOGY
This new tear-away glove is specifically designed for working with rotational equipment. Featuring 12 strategically placed built-in zones, within seconds, the glove will tear-away under force to avoid snagging in fast-moving, hazardous equipment. Should a snag emergency occur, the STAGCTPU TenActiv™ 13-gauge seamless knit work glove is designed to pull apart under tugging force allowing the operator the ability to quickly free his or her hand away from the destructive pulling force. The tear-away times are 3.5 seconds for palm, 1.5 seconds for thumb and only 1 second for the fingers.
The tear-away points are made of a thinner zone of Nylon-Spandex material designed to tear apart when subjected to 500RPM and 7.38 foot-pounds. Other features of the #STAGCTPU TenActiv™ brand of work gloves includes ANSI cut level A5 resistance, ANSI level 4 resistance against blunt industrial punctures and a highly tactile polyurethane palm coating.
BARE-HANDED WEAR EXPERIENCE WITH MAXIMUM CUT PROTECTION
If your team handles glass, sharp metals, sheet metal or work in aerospace, metal stamping, automotive, metal fabrication, pulp and paper, then you need to try these S21TXUFN TenActiv™ Extreme Cut Resistant Work Gloves - "The World's Thinnest Cut Level A9 Knitted Work Glove".
These ultra-lightweight, snug-fitting and flexible TenActiv™ 21-gauge seamless knitted A9 cut-resistant gloves are the closest you can get to working barehanded without sacrificing cut, puncture and abrasion protection. At only 3.65mm thickness, they're about as thin as a heavy gauge disposable glove yet designed for use in the most extreme cut hazard environments. Palm coated with nitrile, these new TenActiv™ work gloves provide a powerful grip making them ideal for wet, oily and dry environments.
They're also touchscreen compatible. If you're on a jobsite, taking off your work gloves even for a moment can be problematic and put you at risk to injury. When your hands aren't protected, you are at a much higher risk for an accident. Touchscreen compatible work gloves give operators the ability to work quickly with electronics and seamlessly move between tasks. They're made in North America!
WATERPROOF EXTREME CUT-RESISTANT GLOVES
Cold, wet hands are unproductive hands prone to injury. If you call the outdoors your office, they you most likely already realize that cold weather hand protection is typically bulky and cumbersome. These S18WTLFN TenActiv™ waterproof winter work gloves provide a high level of warmth with minimal bulk, thanks to an acrylic terry liner that keeps hands warm in temperatures down to -10°C / 14°F.
The combination of a nitrile palm coating and a laminated waterproof membrane optimizes these gloves for handling soaked or oil-slicked parts. Their TenActiv™ 18-gauge seamless knit assures ANSI Level A4 cut protection, ANSI Level 3 abrasion resistance, and ANSI Level 4 puncture resistance making them ideal for construction, mining, utilities, fisheries, oil & gas, fence installation, wastewater, forestry, railroads. Featuring touchscreen compatibility, this translates to less glove removals and warmer, safer hands.
Shop wholesale priced industrial work safety gloves you just can't find anywhere else. Superior Glove® provides a wide variety of innovative, one-of-a-kind, multi-functional ANSI safety rated hand protection solutions that really deliver! But don't our word for it, tap the link and ....
Monday – Friday 8:30am – 4:30pm EST
Samples. Non-Published Volume Discounts. Questions.
Toll-Free +800-274-4637 | +716-668-4001 | [email protected]
"We Want You To Return Home Safely...Every Day!™