Stop Screwing

with

Your Screws
Specialized Work Gloves That Work Better With Construction Hardware Items Such As Nails, Screws, Tacks & More!
Get a better grip and stop bending over to pick up displaced nails, screws, tacks, wiring and more with these engineered, one-of-a-kind TenActiv™ S18TXFTLP specialized industrial work safety gloves created specifically for your job environment and personal safety.
---
The hands play an important role in virtually every task we perform. From start to finish, the hands are critical for productivity and consequently need to be protected from the dangers of the job. Work gloves are designed to provide safety so your workforce returns home safely every day. Unfortunately, there are drawbacks to wearing industrial hand protection.
No matter the job, ensuring that you're equipped with the proper personal protection can help you get the job done both efficiently and most importantly, safely. Some of the most important (but sometimes overlooked) protective items you can have with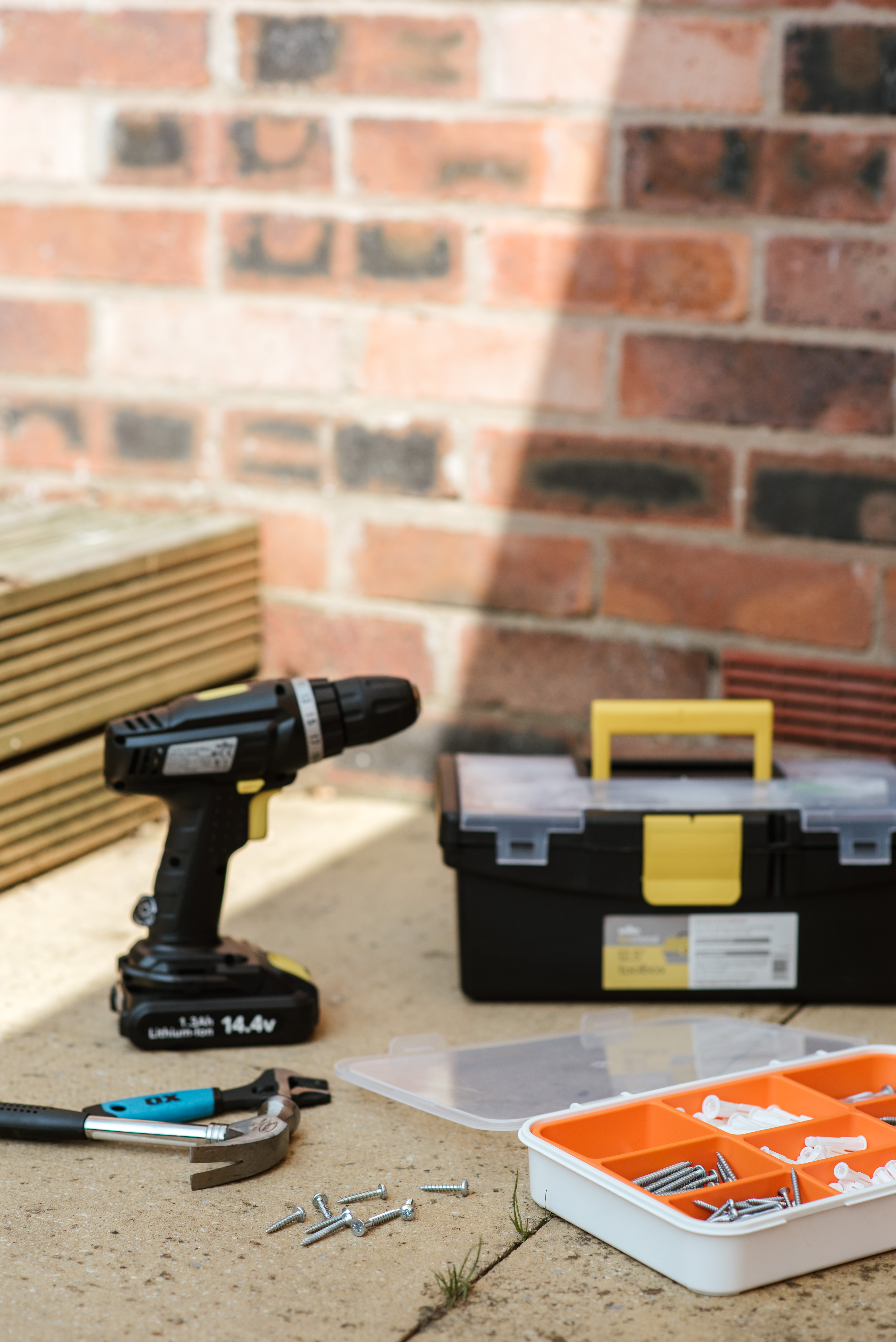 you at your work station or job site are the proper work gloves.
If you work in framing, roofing, furniture assembly, truss assembly, pulp and paper, you work with small parts such as construction nails, tacks, staples screws and wiring.
Unfortunately as operators sort through tool belts or tool boxes, they become frustrated with their hand protection as it prevents efficient grasping and sorting of these small construction items that many opt out of wearing their gloves subjecting them to a work related injury.
Recognizing that specialized hand protection is needed within these industries, the glove engineers at Superior Glove® have created a new, one-of-kind work safety glove designed just for you.
Despite OSHA standards governing hand protection such as standard number CFR 1910.138 (a) (b) where it states that employers must require employees to wear hand protection when exposed to hazards, hand injuries still make up a large portion of reported injuries in industrial workplaces. In fact, the U.S. Bureau of Labor Statistics claim that over 70% of workers experiencing hand injuries were not wearing gloves at the time and the remaining 30% were not wearing the right type of glove.
The TenActiv™ S18TXFTLP was created to offset these workplace phenomena's while increasing productivity and efficiency.
ZONED MAXIMUM CUT RESISTANCE PROTECTS VULNERABLE AREAS
From the hottest-selling TenActiv™ product line, these S18TXFTLP innovative work safety gloves feature metal mesh reinforced leather palm patches to protect palms from sharp objects, while the uncovered fingers and thumb allow for touch sensitivity. Strategically placed oil-resistant foam nitrile coating on the tips of the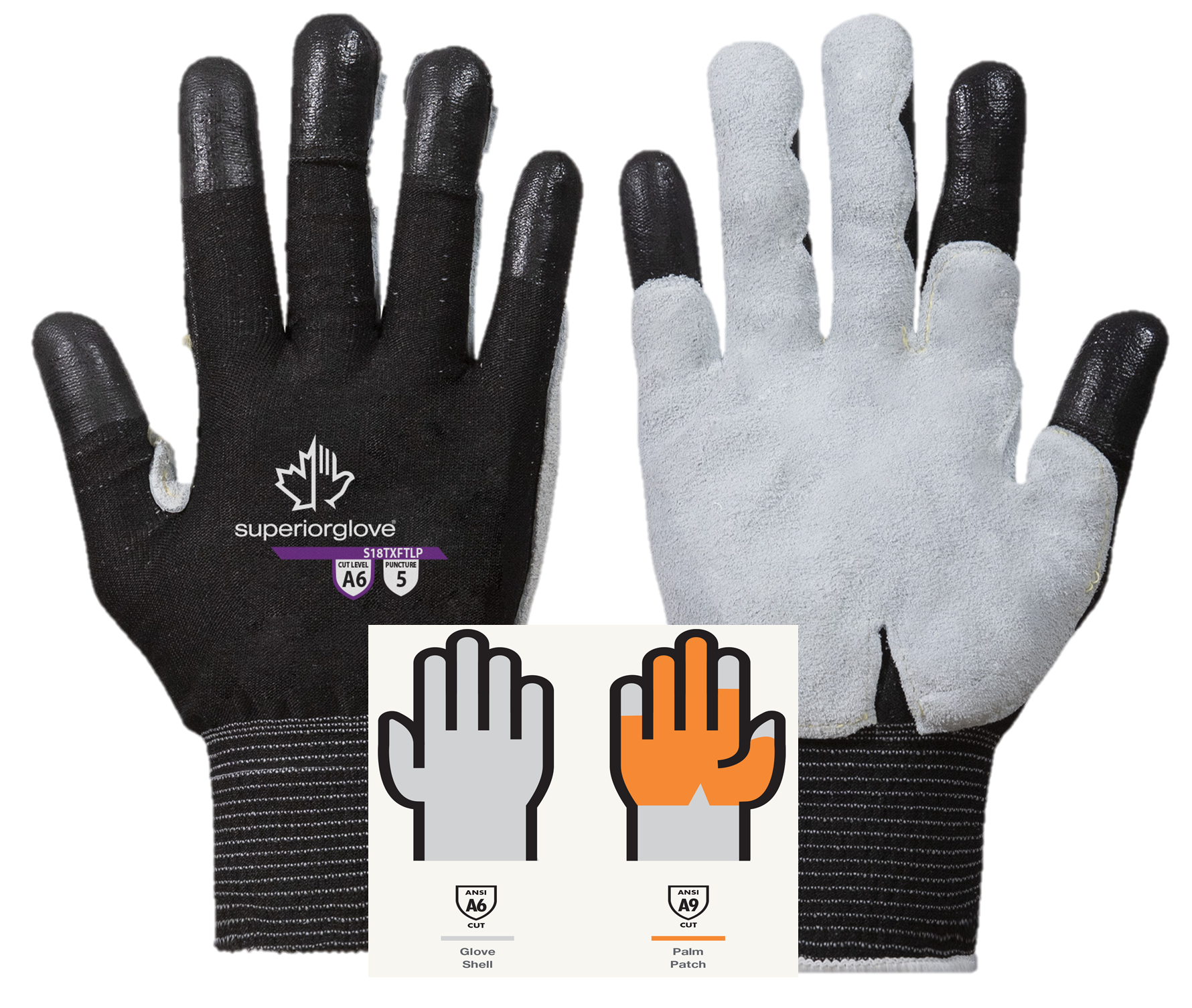 thumb, pinky and pointer fingers allow operators with the ability to easily grip, sort and select small hardware items without having removing their gloves.
These TenActiv™ S18TXFTLP work safety gloves feature a state-of-the-art seamless knitted glove shell that snugs the curves and folds of the hand for amazing dexterity, great freedom of movement and amazing all-day wearing comfort. Sewn with a lint-free continuous filament yarn, it is engineered stronger than steel on an equal-weight basis and much cooler to wear as it produces less heat.
CUT & PROTECTION PROTECTION
Injuries don't discriminate! Industrial hand lacerations and puncture type injuries can happen anywhere on the hands at any time. Featuring leather reinforced palms, the TenActiv™ S18TXFTLP industrial work gloves provide multi-zonal 360° cut resistance in the most vulnerable areas of the hands. Wearers of this glove have ANSI cut level A9 protection throughout the palms, cut level A6 protection on back of hands AND ANSI level 5 protection against industrial probe puncture hazards.
Leather palm patches with reinforced metal mesh for ANSI A9 cut protection

TenActiv™ engineered yarn offers ANSI A6 cut protection to the back of hand and tips of thumb, pinky, and index fingers

Foam nitrile coating on fingers for a steady grip when handling lightly oiled parts
A true innovator in hand protection, Superior Glove® is able to provide stellar cut safety for the hands all at a great price. Now you can pick up screws, nails, tacks and sort through tool pouches, belts and boxes with ease. All you need to do is tap the link and ….
Free Shipping When You Order $499+
Monday – Friday 8:30am – 4:30pm EST
Call or Click
Samples. Non-Published Volume Discounts. Questions.
Toll-Free +800-274-4637 | +716-668-4001 | [email protected]
"We Want You To Return Home Safely...Every Day!™