Featured News - Current News - Archived News - News Categories
Revolutionary TenActiv™ Work Safety Gloves
by mdsassociates
Fri, Apr 29th 2022 07:30 am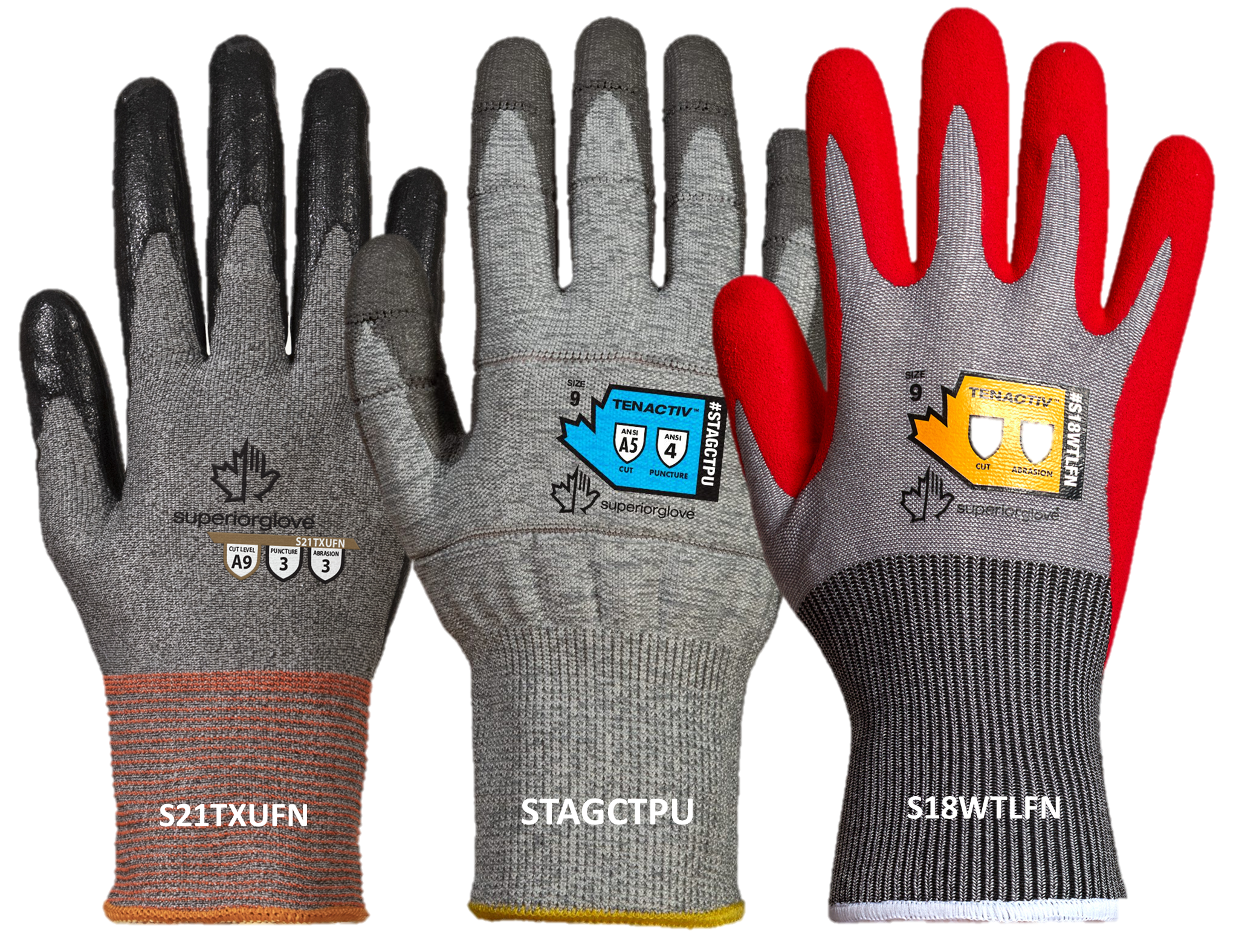 ELEVATE PPE SAFETY COMPLIANCE
Superior Glove® engineers are driven to develop cutting edge hand protection products that not only meet a specific safety need, but more importantly are constructed so workers won't want to take them off on the job.
Their most recent launch of three new safety gloves added to their TenActive™ line are knitted from yarns engineered to incorporate the benefits of two or more components to create unparalleled cut protection, performance and comfort.
WORK GLOVES WITH TEAR-AWAY TECHNOLOGY
This new tear-away glove is specifically designed for working with rotational equipment. Featuring 12 strategically placed built-in zones, the STAGCTPU TenActiv™ 13-gauge seamless knit work glove is designed to pull apart under tugging force to avoid snagging in fast-moving, hazardous equipment and allow the operator to quickly free their hand. The tear-away times are 3.5 seconds for palm, 1.5 seconds for thumb and only 1 second for the fingers.
BARE-HANDED FEEL, MAXIMUM CUT PROTECTION
Known as "The World's Thinnest Cut Level A9 Knitted Work Glove," the S21TXUFN TenActiv™ Extreme Cut Resistant Work Gloves are ultra-lightweight, snug-fitting and flexible without sacrificing cut, puncture and abrasion protection. At only 3.65mm thickness, they're about as thin as a heavy gauge disposable glove yet designed for use in the most extreme cut hazard environments. Palm coated with nitrile, these new TenActiv™ work gloves provide a powerful grip making them ideal for wet, oily and dry environments. They are also touchscreen compatible to give operators the ability to work with electronics and seamlessly move between tasks.
WATERPROOF CUT RESISTANT GLOVES
If you call the outdoors your office, these S18WTLFN TenActiv™ waterproof winter work gloves provide a high level of warmth with minimal bulk, thanks to an acrylic terry liner that keeps hands warm in temperatures down to -10°C / 14°F. The combination of a nitrile palm coating and a laminated waterproof membrane optimizes these gloves for handling soaked or oil-slicked parts. Their TenActiv™ 18-gauge seamless knit assures ANSI Level A4 cut protection, ANSI Level 3 abrasion resistance, and ANSI Level 4 puncture resistance making them ideal for construction, mining, utilities, fisheries, oil & gas, fence installation, wastewater, forestry, railroads. Featuring touchscreen compatibility, this translates to less glove removals and warmer, safer hands.
------------------------------------------------------------------------------------------------------------------------------
+Learn more about the newest Revolutionary TenActiv Work Safety Gloves here
+Shop Superior Glove® TenActiv™ Tear-Away Gloves here
+Shop Superior Glove® TenActiv™ Nitrile Coated Ultra-Thin Extreme-Cut Gloves
+Shop Superior Glove® TenActiv™ Waterproof Foam Nitrile Coated Gloves
Related Articles