Featured News - Current News - Archived News - News Categories
Wells Lamont Critical Environment (CE) Hand Protection
by mdsassociates
Fri, Oct 20th 2023 10:00 am
Wells Lamont Critical Environment (CE)
Hand Protection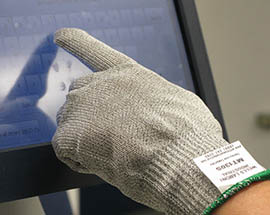 Cleanrooms are a necessity in regulated industries or critical manufacturing environments during applications where it is critical to minimize particulates.
As a first line defense, specialized or cleanroom friendly hand protection is typically required in semiconductor manufacturing, aerospace, pharmaceutical manufacturing, healthcare (USP 797), paint lines, the rechargeable battery industry, life sciences and many other fields that are highly sensitive to environmental contamination.
Cleanroom gloves differ from conventional gloves as they are constructed with non-conductive fibers, non-shedding glove coatings, low-lint yarns that are specially packaged in fiber free packaging. Many cleanroom gloves are available as clean-processed or sterilized prior to use to further reduce contaminates.
Wells Lamont Industrial works with the best engineered glove technologies available on today's market to create their critical environment (CE) product line of hand protection. Critical environment gloves are uniquely designed to provide hand protection, while simultaneously protecting the processes, equipment and/or product you are handling as well.
Cut-Resistant Glove Liners
These seamless knitted gloves liners offer additional cut protection when worn underneath another glove. The Spec-Tec™ and Scepter ™ cut resistant liners also protect hands from prolonged exposure to latex and have a high level of tactile sensation. They are also ambidextrous and available in sterile or non-sterile.
Nylon Liners
Wells Lamont offers reusable and disposable nylon glove liners that can be worn by people with latex allergies. The liner creates a barrier between the hand and latex, reducing the incidence of allergic reactions. Nylon liners can be worn in environments where latex glove use is required, without needing additional cut resistant properties.
Sterile Gloves
Sterilized gloves are used in controlled environments where prevention of contamination is needed. Each sterile glove comes in a sterile package that must be opened prior to wear. A Certificate of Conformance is included with each shipment, with an expiration date of 2 years noted on the packaging.
Wells Lamont CE gloves also comply with industry regulations concerning gloves that are deemed appropriate for controlled environments. CE gloves and liners are often used to handle delicate parts and are designed to help protect products from human residuals and skin oils. They also carry gloves that are lint-free and low-linting to better service the needs of special customers.
-----------------------------------------------------------------------------------------------------------------------------
+ Learn more about the Wells Lamont line of critical environment (CE) Hand Protection here
+ Shop the Wells Lamont line of critical environment (CE) Hand Protection here
Related Articles