Bite the Cold

with

Caiman

®
High-Performing Insulated Industrial Hand Protection
Healthy hands are instruments critical to completing tasks and no job or business is successful without these. When it comes to industrial hand safety, environmental cold conditions can affect any worker exposed to cold air temperatures, espe
cially with increased wind speed. Therefore it's very important for employers to know the wind chill temperature so they can gauge a workers' exposure risk and plan accordingly.
Cold weather protection should always start with protecting the hands. If you have spent time in cold conditions, you already know the fingers and hands are usually the first thing to get cold and a good pair of Caiman® industrial winter gloves or snow mitts can mean the difference between a good day and bad day.
As wind speed increases, it causes the cold air temperature to feel even colder and allows heat to leave the hands more rapidly, increasing the risk of cold stress injury such as frostbite, hypothermia and chilblains. Cold stress occurs by driving down the skin temperature. When the hand is unable to warm itself, serious cold-related injuries may occur and permanent tissue damage can result. Cold stress is compounded with wetness or dampness, even from perspiration as it facilitates heat loss from the hands. Selecting the proper glove becomes crucial to personal safety and productivity and Caiman® brand of insulated cold protection gloves can help offset the cold, wind and water!
CAIMAN® COLD, WIND & WATER RESISTANT INDUSTRIAL HAND PROTECTION
The Caiman® portfolio of high-performing insulated cold protection gloves is designed for industrial operators working in harsh environmental cold applications that include towing/salvage operators, recreational workers, snow cleanup crews, construction workers, linemen, baggage handlers, marina/dock workers, emergency responders, landscapers and support services for gas, oil and water. Also at risk are those that work inside industrial freezers rooms or cold storage warehouses.
If you're seeking the ultimate hand warmth for the most extreme winter conditions that include sub-zero wind chills, blizzards, lake-effect snow storms, sleet and freezing rain then Caiman® Cold Protection Gloves provide a good balance of dexterity, flexibility, durability and bulkiness.
Designed for industrial applications, the Caiman® portfolio of high-performance insulated cold protection gloves and mitts will keep your hands warm and dry so you can complete the task efficiently, effectively and in comfort.
Part of the PIP® family, Caiman® winter gloves offer an assortment of cold weather hand protection constructed with fleece, polyester or AirMesh™ glove backs sewn together with leather, synthetic leather or polyester palms. Glove insulations include fleece, faux fur or Caiman's proprietary Heatrac® micro-fiber insulation - the ultimate in warmth and comfort without the bulk.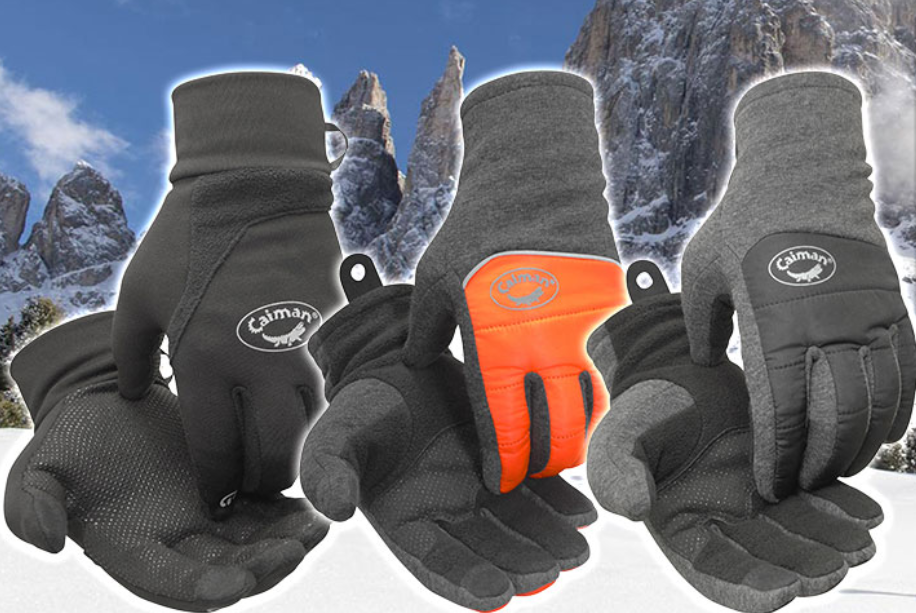 Other Caiman® winter glove options include high-visibility accents that promote safety awareness in low light working conditions and hook-and-loop cuffs. If you work with slick surfaces, equipment or machinery, several Caiman® styles offer padded palms, G-grip palm patches or silicone grip palms for enhanced gripping power. Many of these winter gloves feature touchscreen functionality which enables operators to use their portable device while keeping the heat trapped inside their gloves. Several styles offer Caiman's Kontour™ conforming ergonomic technology designed to reduce hand fatigue.
Caiman® cold condition glove solutions allow you to work longer, faster and feel better in moderate to extreme temperatures and environments all the way to tundra-awful cold! Compliment your Caiman® winter insulated glove with instant hand warmers or battery-operated warming glove inserts and create a warm environment for hours! But take our word for it, just tap the link and ...
Questions. Samples. Special Requests. Volume Discounts.
Call or Click Today
Toll-Free +800-274-4637 | +716-668-4001 | [email protected]
Monday - Friday 8:30am - 4:30pm EST
"We Want You to Return Home Every Day™