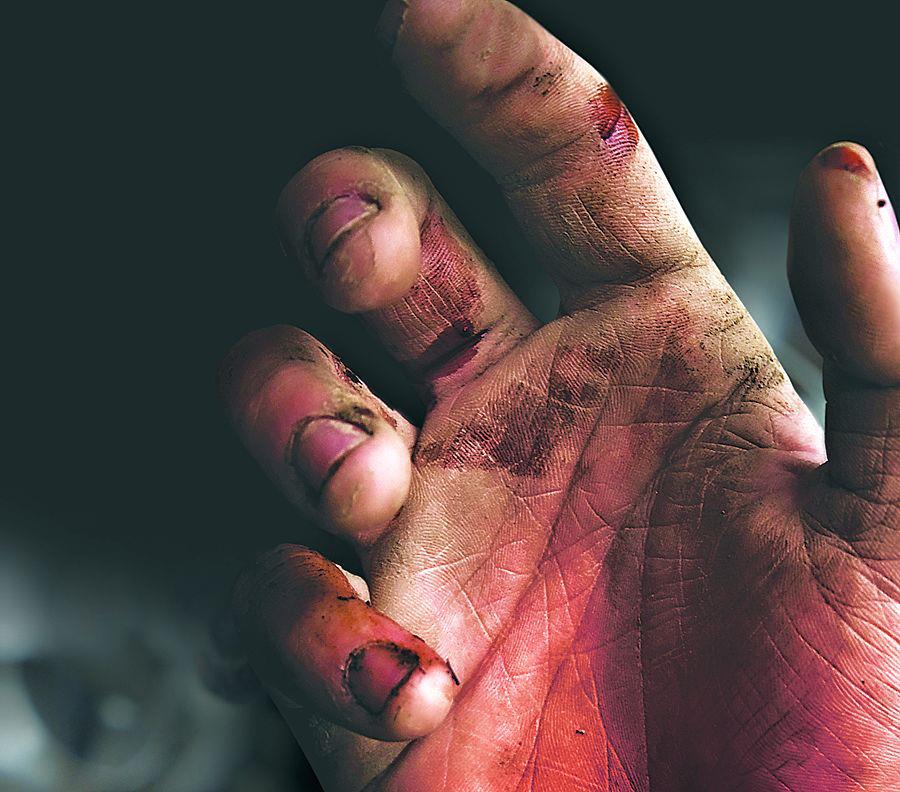 G-Tek® PolyKor® X7™ Extreme-Cut Safety Gloves
Serious Industrial Hand Protection
Work gloves are proven to reduce the risk of injury by 60 Percent! The U.S. Bureau of Labor Statistics reports more than 70 percent of workers experiencing hand injuries were not wearing gloves at the time. And the remaining 30 percent of injured workers were not wearing the right type of glove.
The cost of one incident that could have been prevented by workers wearing the right glove often far exceeds the cost of an entire hand protection program. The National Safety Council offers the following as a guide:
Direct cost of a laceration: $10,000

Stitches: $2,000 plus indirect

Butterfly: $300

Severed Tendon: > $70,000
Selecting the proper industrial work safety glove is crucial to personal safety and overall productivity. If work gloves are too bulky, hot or cumbersome, they are typically removed or never worn. It's also imperative that the proper glove is correctly matched to the task.
Many workers are demanding improved comfort, fit and dexterity from their work gloves forcing engineers to seek new materials and innovative ways to manufacture gloves. Industrial work safety gloves, particularly cut-resistant style gloves, have benefited from these new technological innovations. Replacing cotton, stainless steel mesh, leather and synthetic yarn are gloves manufactured from engineered fibers such as TenActiv™ or Dyneema® yarns and incorporate palm dipped polymer coatings.
Industrial cut-resistant gloves are rated from ANSI Level A1 to A9. A1 cut resistance is designed to protect against threats such as paper cuts whereas A9 protects against the industry's most extreme cut hazards within:
Automotive Assembly

Metal Fabrication

Metal Handling

Glass Handling/Manufacturing

Metal Stamping

HVAC

Pulp/Paper

Recycling Plant/Sorting
An Industrial Work Safety Glove That Provides Maximum Cut Protection : Level A9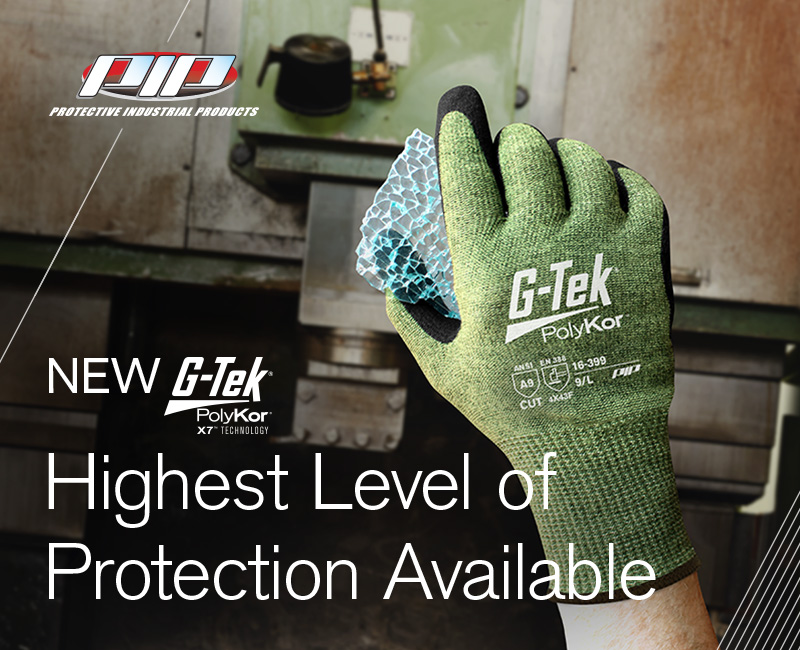 PolyKor® style gloves provide the wearers cut safety at an affordable price for practically every industrial application. Recently introduced by PIP® (Protective Industrial Products), the #16-399 G-Tek® PolyKor® X7™ is an extreme cut safety glove and the newest addition to their line-up. It makes use of PIP®'s PolyKor® proprietary engineered yarns to produce a durable, affordable, breathable and very comfortable extreme cut glove that's rated the highest in the industry.
These G-Tek® PolyKor® X7 Extreme-Cut Gloves are optimized for extreme hand protection and comfort required by today's plant and field workers. The added protection and increased compliance give workers more confidence when working. thus improvied productivity.
G-Tek® PolyKor® X7™ | GLOVE FEATURES
X7™ Technology
X7™ Technology represents the latest in engineered yarn development. X7™ technology is an ultra-thin, 13 gauge reinforced yarn incorporated into the shell of seamless knit work gloves. X7™ yarn provides high touch sensitivity, cut resistance and durability with less bulk. The result is exceptional cut level protection in a thin liner configuration that gently snugs the hand without any pull-back or material restriction.
Touchscreen Compatible
G-Tek® PolyKor® X7™ High Cut Work Gloves also function as touchscreen work gloves. They feature swipe compatible fingertips and give operators the ability to work quickly with electronics in fast paced professions, where speed and operator input is necessary. Touchscreen work gloves also let workers easily and quickly look up information from touch enabled devices without having to remove their safety gloves, putting their bare hands at risk to injury!
NeoFoam® Micro-Surface Palm Coating Grip
NeoFoam® is a water based PU (polyurethane) grip coating. It's an even, thin coating allowing good flexibility and dexterity. NeoFoam® coated palm and fingertips feature a micro-surface texture filled with thousands of tiny suction cups. As these suction cups come into contact with a surface, they create a vacuum that disperses fluids away from the object that allows clean contact with the object.
provide a secure grip which helps prevent injuries and waste when handling heavy or fine parts. Neofoam® offers great abrasion resistance and outstanding wet/dry grip. It is highly flexible and tough, but still offers good breathability.
Other Performance Features
Snug fitting continuous knit wrist helps prevent dirt and debris from entering the glove. The knit wrists have color coded hem bindings for easy size identification and the green color masks dirt. G-Tek® PolyKor® X7™ Extreme Gloves are washable, resistant to chemicals, water, and ultraviolet light.
Remember, cut-proof gloves don't exist; these A9 gloves offer the industry's highest level of cut-resistance and lacerations can happen even when wearing cut-resistant rated gloves. If a top-level A9 glove doesn't fully prevent a cut, it's usually because it prevented a more severe injury. For example a lost finger becomes a couple stitches, or several stiches become a band-aid.
The industry's highest level of cut-resistance (ANSI A9) just got better! All you need to do is to is hit the button and ...
Monday - Friday 8:30am - 4:30pm East Coast Time
Orders. Questions. Samples. Volume Discounts.
+(800) 274-4637 | +(716)668-4001 | [email protected]
"We Want You to Return Home Safely Everyday™"