Featured News - Current News - Archived News - News Categories
Industrial Winter PPE
by mdsassociates
Sun, Dec 27th 2020 08:00 am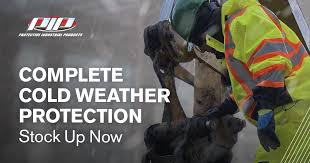 Preparation for changing environmental conditions can include a variety of factors such as cold stress, layering for the elements and safe work practices. Whether you're a seasoned foreman or a road warrior in the trenches, we provide products for cold conditions that support a seamless transition into challenging winter working conditions.
Both the employer and the employee share the responsibility of preparing to work in the cold weather conditions. Since cold stress symptoms can appear suddenly or over a long stretch of time, self-monitoring and monitoring other coworkers for cold stress symptoms is extremely critical. Cold stress is common but it's also avoidable if you engage in the proper preparation.
Looking for a recommendation on the best PPE for winter weather? PIP® (Protective Industrial Products) offers functional and transitional outerwear that feature built-in layering features in addition to thermal gloves and headwear that are designed to combat cold stress.
If you're interested in learning more about PIP's broad offering of industrial cold weather PPE that's specifically designed to prevent cold stress in a variety of applications, then you simply need to click the links below...
+read more about Industrial Winter PPE here now
+shop for Industrial Winter PPE here now
______________________________________________________________________________________________
Related Articles