Featured News - Current News - Archived News - News Categories
MaxiFlex® ATG® Endurance™ Breathable Grip Gloves
by mdsassociates
Thu, Sep 10th 2020 09:15 am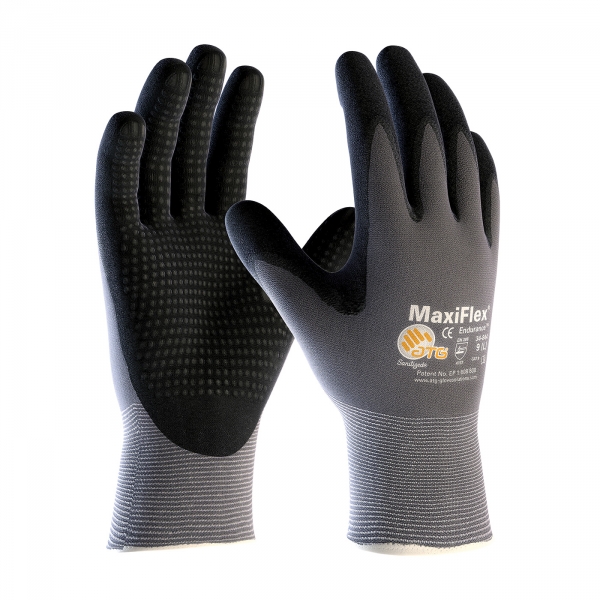 Pioneered by ATG® and partnered with PIP® (Protective Industrial Products), Maxiflex® Endurance™ general-duty industrial work gloves are changing the way employees wear hand protection!
MaxiFlex® Endurance™ gray 15-gauge seamless knit gloves add raised micro dots to the palm that provides increased abrasion resistance (and better durability) plus additional cushioning for highly repetitive applications requiring precision handling.
AIRtech® technology, which enables 360◦ breathability of the hand, is delivered through PIP®'s patented foam technology that allows air to circulate making MaxiFlex® Endurance™ Gloves cooler to wear.
This glove line features a proprietary micro-foam that's constructed of millions of tiny particles that sit in the liner but away from the hand. This foam coating technology optimizes a grip with a unique action delivered through a unique micro-cup finish designed to channel away liquids to when handling in wet and dirty conditions.
ATG® proprietary technology platforms resulted in the Maxiflex® Endurance™ Gloves being 25% thinner than most foam nitrile gloves but offering twice the mechanical performance in form, fit and feel. Being super thin at 0.95 mm, MaxiFlex® delivers exceptional levels of dexterity, flexibility and twice the durability. The glove component materials also comply with Federal regulations for food contact, 21 CFR, 170-199.
MaxiFlex® is more than a glove, it's a productivity tool. These are the most breathable and flexible gloves offered in the market and will increase worker comfort and productivity. But take our word for it ...
+read more about PIP® ATG® Maxiflex® Endurance™ Work Gloves here now
+shop for PIP® ATG® Maxiflex® Endurance™ Work Gloves Here now
____________________________________________________________________________________________
Related Articles