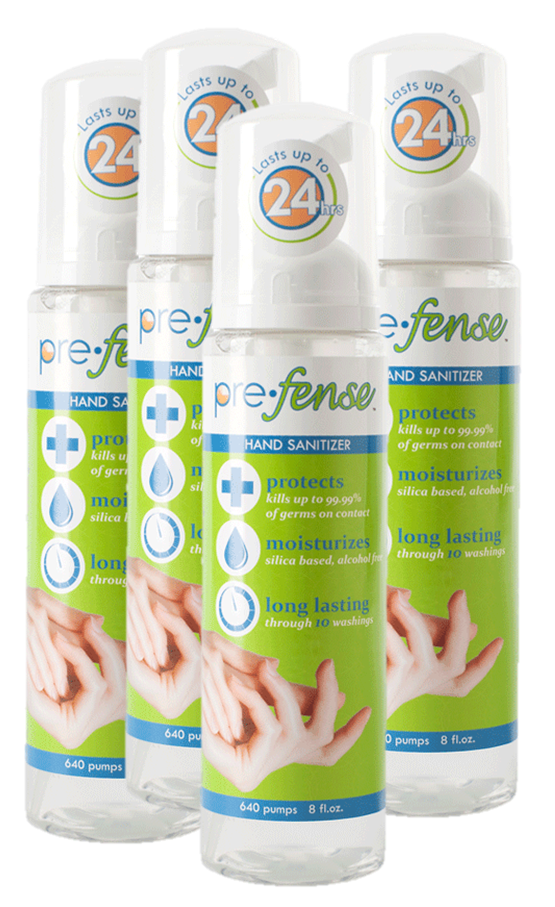 It's

an

Atypical Year

for

Virus Transmission
The Year for RSV & COVID-19 Coronavirus
Guess what's back-the cold and flu season and it's really packing a punch! This year, doctors have noticed there's one virus really impacting young children and it's referred to as respiratory syncytial virus (RSV).
RSV has arrived early this season, spreading fast and causing more hospitalizations for children than usual. Hospitals all across our country are reporting more cases than usual and full emergency rooms. And if this isn't enough, healthcare officials are also closely monitoring a new virus from China called coronavirus.
WHAT IS

COVID-19

CORONAVIRUS?
Much is unknown about how 2019-nCoV, a new coronavirus. Coronaviruses are a large family of viruses found in both animals including camels, cattle, cats, bats and humans. Some infect people and are known to cause illness ranging from the common cold to more severe diseases such as Middle East Respiratory Syndrome (MERS) and Severe Acute Respiratory Syndrome (SARS). Rarely, animal coronaviruses can infect people and then spread between people. There is much more to learn about the transmissibility, severity, and other features associated with 2019-nCoV and investigations are ongoing. Meanwhile it is spreading at a fast rate globally and trending towards a global pandemic.
WHAT IS RSV?
Respiratory syncytial virus (RSV) is a common respiratory virus that is transmitted only between humans and can affect people of all ages. In older children and adults, it causes mostly upper respiratory symptoms (colds), but it can cause a serious infection in the lungs (bronchiolitis or pneumonia) among infants and adults with serious underlying medical problems. Most individuals (including infants) usually develop only mild disease similar to that of a common cold, with congestion, runny nose, and cough. But for some, it can be severe and even life-threatening.
About 25 percent to 40 percent of the affected infants and children will develop symptoms of bronchiolitis or pneumonia, and 5 percent to 20 percent will require hospitalization. Every year, RSV causes epidemics that usually occur during the winter and early spring. However, the actual timing and the duration vary between regions. According to Dr. Matthew Washam, a medical director of epidemiology at Nationwide Children's Hospital in Columbus, "It's an atypical year for RSV in terms of severity".
GERM TRANSMISSION
RSV and coronavirus can be transmitted from person to person, usually after close contact with an infected patient suffering from coughing, sneezing that produces infected droplets from secretions of the mouth or nose. RSV can survive for at least 30 minutes on hands and for several hours on infected surfaces. It is unknown if coronavirus can be spread from surface contact. Unfortunately there are no vaccines or antibiotics for RSN or coronavirus nor are there any supplements or nutrients available to help prevent it. Doctors are urging parents and patients to consider good old-fashioned preventative measures such as hand washing hygiene, staying home when sick and covering coughs and sneezes. When it comes to Infection Prevention, we have the perfect solution - Prefense™ Alcohol-Free Moisturizing Foam Sanitizer!
One Dose Prevents the Spread of Communicable Diseases on the Hands for 24 Hours & Hard Surfaces up to 28 Days!
ADVANCED WATERLESS HAND HYGIENE
High Level Hospital Grade Sanitizer
Prefense™ Alcohol-Free Moisturizing Instant Hand Sanitizer is patented, and a serious game changer! Not only is it much more effective than alcohol-based sanitizers, it's non-irritating, non-toxic, non-stinging, non-flammable and safe for use on children. It will NOT stain or harm surfaces, fabrics, jewelry, metals or floors. One single dose of this stuff can be effective for 24 hours or thorough 10 hand washes or 28 days on hard surfaces!
When applied, Prefense™ creates a silica matrix solution that bonds with inanimate surfaces such as cellulose fabrics, glass, zeolite, etc., thus creating an invisible protective antimicrobial barrier that effectively kills bacteria, fungi and viruses including all strains of staph, strep, E. Coli, drug resistant MRSA and more just one application daily. If a germ transfer does occur, Prefense™ will actively and aggressively slice through a cell's wall immediately upon contact, and kill it.
PreFense™ Advanced Foam Sanitizer is Available in Different Dispensing Sizes:
Designed for hospitals and healthcare providers, Prefense™ is now available for you. Ideal for schools, child care, gyms, spas, food processing, hospitals, nursing homes, dental offices, cancer treatment centers and more. Apply Prefense™ directly to door knobs, handles, steering wheels, cell phones, faucets, light switches, countertops, writing utensils, stove tops, keyboards, remote controls and more… or ... apply to wet hands and then handle item to be cleaned-it's the best of both worlds!
Travel, shop and work with confidence. One hit before you leave your home provides 24 hour protection against germs. Now all you need to do is to click the link and ...
Orders. Questions.
Monday - Friday 8:30am - 4:30pm Eastern Time
+800-274-4637 | +716-668-4001 | [email protected]
+Click here to view a partial kill list
+ Product is temperature-sensitive and must be stored at temperatures no less than 40 degrees F and no more than 110 degrees F.
Special Offer
Order $499 and get
FREE shipping!
Spend $1.00-$150 | Shipping $15.99
Spend $151 - $300 | Shipping $25.99
Spend $301 - $498 | Shipping $37.99
Charges are estimated and may be subject to change based on UPS surcharges, parcel weight, location, carton size. We often absorb some of the cost! We can ship UPS Collect!