Featured News - Current News - Archived News - News Categories
The Nitrile Glove Pandemic
by mdsassociates
Certified Biodegradable Nitrile Gloves - a Healthier Choice for Mother Earth!
Wed, Jan 13th 2021 07:30 am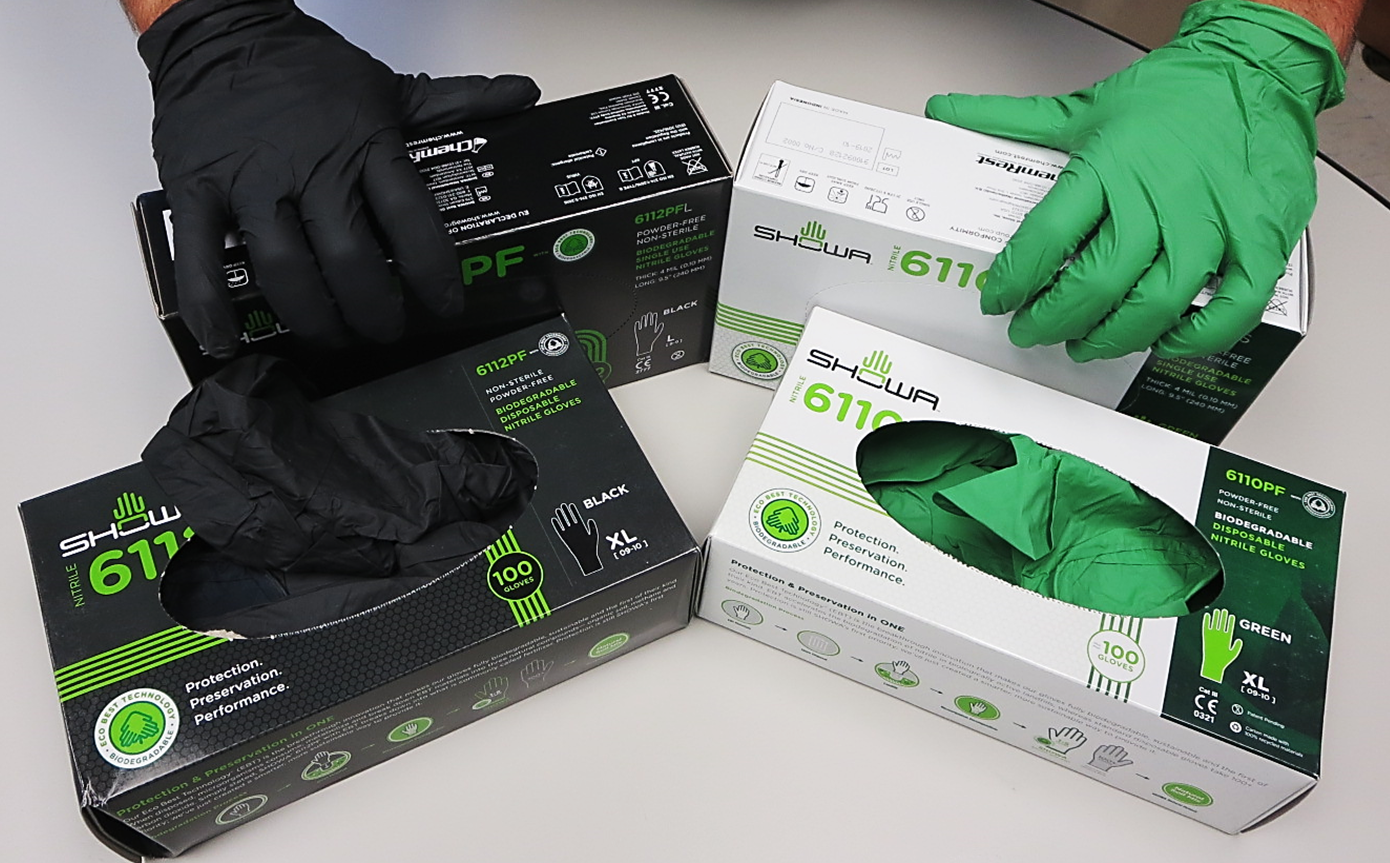 The pandemic has created mass consumption and global shortages for disposable gloves - a necessity for medical professionals, tattoo artists, food servers, dental professionals, salon/spas and food processors.
Single-use nitrile gloves are highly sought for their tactility, hypoallergenic qualities and strong resistance to pathogens, fluids, punctures and chemicals.
Worn once and then disposed of, these mass consumed gloves will eventually be tossed into our landfills where they will slowly breakdown over the next 100+ years! Factor three times the global glove demand and three times the waste – the pandemic is the right time to consider healthier hand protection solutions for our planet!
Available in black or green color, these Earth-friendly SHOWA® 4-mil thick latex-free nitrile gloves use body temperature to mold the glove to the shape of the hand, ensuring a snug and comfortable barrier for the wearer providing what is referred to as a second-skin fit and feel.
Showa® Biodegradable Single-Use Nitrile Gloves have been validated by independent certified laboratories using SSTM international test methods (ASTM D5526 & ASTM D5511) which confirms that 20% of GREEN-DEX™ and N-DEX® gloves will have biodegraded in 160 days with full biodegradation within 1-5 years!! They also comply with Federal regulations for food contact 21CFR, 177.2600.
These biodegradable gloves perform, fit and feel just like ordinary nitrile gloves and are ideal hand protection for intermittent contact with some chemicals, including certain acids, alcohols, alkalis and ketones. A decreased risk of allergies make these perfect for public utilities, petrochemical, janitorial, automotive, organic foods, housekeeping, gardening, public utilities, food service, growing/harvesting/processing, landscaping, museums, law enforcement, spas, laboratory, pharmaceutical, food processing/service and agriculture.
+read more about SHOWA Biodegradable Gloves here now
+shop for SHOWA Biodegradable Gloves here now
______________________________________________________________________________________________
Related Articles