Featured News - Current News - Archived News - News Categories
Tattoo Shop Safety Equipment and Sterilization
Wed, Jun 22nd 2016 11:00 am
The rules and regulations associated with Tattoo Parlors are always evolving based on the technology and methods involved. The most critical goal should always be to provide a safe environment for both tattoo employees and customers in this growing business. Because of the inherent risk of infection from the tattooing process, it is of the utmost importance to maintain safety protocol. It is just as important to be aware of the most up to date products in order to keep ahead of possible regulation changes and advancements in technology.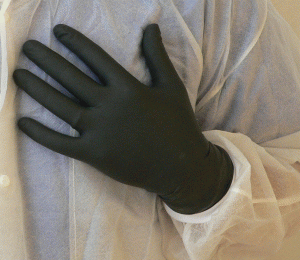 Disposable Exam Gloves
MDS Associates, Inc. carries a multitude of products specifically designed to limit the risk of infection. Disposable Exam Gloves are the basis for this protection, and for tattoo artists there is the added bonus that these gloves come in Black, which doesn't show blood like lighter colored gloves. Our most popular gloves are:
Protective Bibs
We also carry Bibs to prevent skin-chair contact during your tattooing procedures. These can also be used to hold cups of ink for the tattooing process. You can choose from:
Both of these products are 2-ply, soft and absorbent. The Polybacking is designed to prevent soak through to the customer, and they are available in 8 & 5 colors respectively. Both products are 13" x 18".
Self Sealing Bags and Pouches (sterilization)
Self Sealing Autoclave Bags are designed to sterilize your metal instruments with medical-grade materials and nearly effortless use. These products also feature blue-tinted transparent covers, making it easy to detect any contamination issues. For your convenience they come in a variety of sizes such as:
Having a diverse array of cleaning products is a necessity for any Tattoo Parlor. In this aim, MDS Associates carries Paper Towels to clean work areas and wipe down skin during tattooing as well as Tincture of Green Soap to prepare the areas.
There are also three varieties of Disinfecting Towelettes (Sani-Cloth, Cavi-Cide & DisCide) that you may choose from depending on your own preference. Sterile Alcohol Prep Pads and Cotton Applicators should also be kept in bulk in any Tattoo Parlor because they are used so often and for many uses.
MDS Associates also carries Dynarex® Vitamins A & D Ointment which is a perfect handout for Tattoo aftercare. A skin protectant is a great way to better serve your customers and aid in their healing process. By visiting mdsassociates.com you can browse through our many useful products and also learn more on the innovations in technology that will impact your business!
Related Articles